Cooper Tires offer a great range of car, 4x4, winter and high performance tyres that have been designed and developed to match the high specification established by today's motor manufacturers. Whether you are driving the high street or the motorway, the race track or the dirt track, rediscover the liberating experience of motoring, under control.
The Cooper name has a strong heritage, spanning 100 years back to 1914. Growing rapidly and demonstrating flexibility and patriotism through World War II, they officially becoming Cooper Tires in 1946. Throughout the next five decades the company has established itself as today's preeminent producer of high performance and ultra-high performance tyres.
Cooper 4x4 Tyres
Discoverer A/T3

5-Rib All-Terrain Design: The modern all-terrain design is engineered to provide outstanding performance in both on-road and off-road driving applications. The A/T3 tread pattern exploits a combination of features specifically suited to provide solid all-terrain performance, superior all-season traction, excellent stability, confident handling and reliable tread wear.
Broken Centre Rib: The broken centre rib improves soft surface traction without sacrificing handling.
Dual Draft Tread Element Walls: The dual draft angles on the tread element walls aid in reducing stone retention, stone drilling and assist in cut and chip resistance.
Lateral Groove Protectors: Serrated steps in the lateral grooves of the intermediate tread rib reduce the chance of stone retention and stone drilling.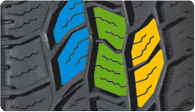 Coupled Tread Elements: The centre and intermediate tread elements are uniquely designed in pairs affording excellent stability and confident handling.
Discoverer ATS

Computer Optimised Tread Design: Reduces road noise, improves ride comfort.
Five Rib Tread Pattern With Rounded Shoulder: Unique pattern that creates a 'gripping edge' providing excellent on road traction and handling.
Solid Centre Rib: Helps to reduce tyre noise and promote responsive handling.
Strategically Placed Sipes: Designed to improve handling on wet roads.
Discoverer ATR

Vtech Optimized Tyre Profile: Using state-of-the-art Vtech computer aided engineering; a mould profile was designed to provide favourable balance of wear and handling characteristics.
Chamfered Tread Elements: As part of their refined shape, the tread elements are strategically chamfered at the sawtooth circumferential grooves and also at the tip of the centre elements to increase element stability to fight irregular wear.
Extensive 'Zig-Zag' Siping: The extensive number of sipes on the centre rib and tread elements are deep to provide for long, dependable traction in all-weather conditions while the 'zig-zag' shape increases the effectiveness of the gripping edges.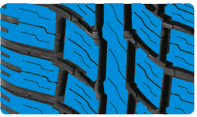 Five Rib All Terrain Design: Provides solid all-terrain performance.
Discoverer A/T

'Zig-Zag' Tread Block Sipes: Sipes intersect tread element sides for enhanced wet traction.
Modern Sidewall Styling: Available in outlined white letter and black sidewall designs.
All Terrain Design: Allows the tyre to perform equally well on the road and off.
Discoverer L/T

Long Mileage Tread Compound: Compound ingredients create a tyre that is high on durability and long on mileage.
Radial Performance: Offers performance advantages in handling, fuel economy and tread life over equivalent sized bias ply tyres.
S-Speed Rated All-Weather: All-season light truck tyre.
Discoverer S/T

Large, Beefy Tread Elements: Designed for off-road applications while providing long, even wear for road use.
All-Weather Tread Compound: Provides excellent performance during all seasons, on or off road and is studable.
Optimised Tread Profile: Distributes contact evenly across the tread for balanced wear.
Bevelled Treadblock Edges: Fights irregular wear and improves self-cleaning capabilities.
Staggered Tread Elements: Breaks up harmonic pitch, significantly reducing tyre noise.
Full Size Range: Wide range of sizes available to fit SUV's and light truck.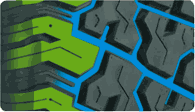 Deep Tread And Scalloped Shoulder Design: Improves traction in soft surfaces.
Discoverer S/T Maxx

Armor-tek³ Carcass Construction: Cooper's proven, class-leading 3-ply Armor-Tek3 construction, contributes to the durability of the S/T Maxx by adding strength to the sidewall and tread area. A unique angled ply construction absorbs and helps dissipate tyre impact forces that can damage a tyre in harsh off-road conditions.
Hybrid 4-5 Rib Tread Pattern: The alternating 4-5 rib tread pattern gives a bold look, while providing enhanced on- and off-road performance.
Asymmetric Dual Draft Tread Element Walls: The asymmetric and dual draft angles along the tread element walls aid in reducing stone retention and stone drilling and increases their resistance to cutting and chipping when used in gravel or off-road applications.
Stone Ejector Ribs: Strategically placed ribs within the lateral grooves of the tread design help to discharge stones and resist stone drilling.
Rut Guard Rib: A continuous rut guard is strategically placed in the upper sidewall area of the tyre, to deflect objects and provide for increased abrasion resistance in tough, uneven terrain.
M+S Rated and Studdable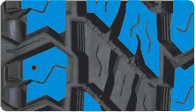 Large Tread Elements: The large surface-area tread elements provide positive grip and even wear for excellent on and off-road performance.
Discoverer STT

Armor-tek³ Carcass Construction: The tyre's heavy duty carcass is constructed of two radial polyester body plies and one angled polyester body ply to deliver 3 plies of protection against impact breaks and bruising.
Deep Buttress Lugs: The new aggressive tread design extends far down the sidewall to enhance its soft surface traction and also provide additional "bite" in rock climbing applications.
Tapered Stone Ejectors: An integral stone ejector rib extends down from the centre lugs to the buttress blocks to help prevent stones and debris from lodging between the tread elements.
Rim Flange Protector: Strategically placed in the lower side wall area, this feature helps protect the wheel and tyre from hazards in off-road driving conditions.
Full Size Range: A full range of high flotation and light truck metric sizes with outline white letters and black sidewalls fulfils the needs of the majority of off-road vehicles.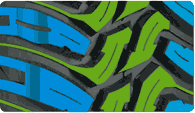 Super Traction Tread: Computer designed, non-directional tread employs features such as deep buttress lugs, notched and scalloped shoulder lugs, and a unique centre traction zone for tough off-road driving.
Discoverer M&S

Snow Groove Design Technology: Provides biting edges for snow and ice traction without reducing tread element stiffness. Capitalises on the highest traction characteristics of 'snow on snow' versus 'snow on rubber'.
D Square D2 Sipe Technology: A dense 'zig-zag' sipe pattern further enhances winter performance while maintaining excellent wet traction. The sipes are deep to provide performance benefits throughout the life of the tyre.
Strategically Placed Stud Pin Holes: Provide enhanced stud retention while delivering optimum traction on ice.
All-Terrain Design: Allows the tyre to perform equally well on the road and off.
Formula One Autocentres now stock Cooper 4x4 Tyres at very competitive prices. To find out more about the Cooper Tire range visit Cooper Tires or to buy your next Cooper 4x4 tyre online use our simple tyre finder tool to find the correct tyres for your car.