​
What people are saying about us...
Jan 6, 2017
Due to my vehicle breaking down I had to cancel my booking on the same morning. Staff helpful and changed my tyres on the next day Ipswich
Jan 10, 2017
Staff are very friendly 5-star customer service I thought I'd got definitely would use them all the time Jake, Derby
Jan 8, 2017
Booking on line was easy, the reception staff are great and the car was finished early. I am not 'interested in cars' so I rely on advice and the staff at Chelmsford are informative and never patronising, unlike some of the Dealerships. Many thanks. John, Chelmsford
Jan 1, 2017
I was told there would be a possible 30min delay before my tYres could be fitted but I was pleased this reduced to 5mins. As this was all prepaid on internet I was back on the road in 40mins. GREAT JOB. Thanks guys. Northampton (Gambrel Road)
Dec 25, 2016
Very helpful staff, nothing too much trouble. Will be booking both my cars in for servicing and mot soon. Grantham
Jan 4, 2017
Fantastic and friendly service as usual. The service was very thorough. Bristol (St. Philips)
Dec 27, 2016
Really helpful and cheery service from Ian today, will definitely use Glasshouse street again in future Nottingham (Glasshouse Street)
Jan 8, 2017
Prices always good. Staff are always pleasant and helpful. Good service all round! Burton
Dec 30, 2016
The staff at the Dunstable branch are a credit to your company, they are always friendly and most helpful. I have used this branch a few times in the past for tyres,wheel alignment, brake pads and now just had my wife's car MOT'd there Keep up the good work Jay, Dunstable
Dec 27, 2016
Staff were great given it was Christmas eve and would have wanted to go home. Stevenage (Boulton Road)
Jan 9, 2017
I would like to give a huge thank you to the staff at F1 Norwich! I dropped my car off for MOT and was completed (with additional works that needed to be completed - new rear tyre & rear bulb) within the hour. The staff kept me notified with everything that needs to be kept an eye on in future and even listed some common faults that I should look out for. I found the staff incredibly friendly and welcoming and will be coming back for anything I need doing in the future. I will also be highly recommending this centre to my friends/family. Thanks for your great service! robert, Norwich
Jan 11, 2017
Service is brilliant....staff are helpful and explain in detail to what needs to be driving be. King's Lynn
Jan 6, 2017
Quick, efficient, friendly and extremely reasonable. Will certainly use again Kate, Harlow
Jan 12, 2017
Always top notch service. Never go anywhere else and always recommend to friends and family. Swindon
Jan 2, 2017
Very helpful and professional service, will use again and highly recommend to friends and family Northampton (Gambrel Road)
Dec 31, 2016
Good service and car ready earlier than expected. I will use this centre again Crawley
Jan 12, 2017
I always use F1 Auto for my car and my wife's car for MOT's and tyres and get great customer service from Stuart and all other staff. Stevenage (Boulton Road)
Dec 30, 2016
The staff responded to my request promptly, they undertook the work immediately, they were helpful and polite, and they completed the work thoroughly and in good time.I will always use them as they are very accomodsting of my work commitments. Wisbech
Jan 15, 2017
Staff were very helpful. Although there was an issue with one of my tyres fitting, after a quick chat on the phone it was sorted the next day free of charge. The facilities were very well maintained and a nice place to be in. A great service all round. Dartford
Jan 2, 2017
Always a great service at your Chatham branch! Good prices too, would highly recommend! Chatham
Jan 8, 2017
The service was excellent and I highly recommended this autocentre to my friends . Crawley
Jan 13, 2017
I've used this branch for a while now and really can't fault the service I've received would definitely recommend to friends and family. Northampton (Gambrel Road)
Jan 1, 2017
Probably wouldn't use the mobile service although a good idea. As always, very friendly, polite and knowledgeable service. Thank you F1 Cheltenham. Cheltenham
Jan 1, 2017
I have used this branch on several occasions. The service is excellent and prices represent true value for money. I recommend them to anyone. Nottingham (Lenton Lane)
Jan 6, 2017
The staff were very friendly and did their utmost to accommodate me and explain the work to be done. Will definitely use F1 again. Oxford
Jan 13, 2017
Good service with a free wheel alignment check.Never had free align check in50years of buying tyres Basildon
Jan 11, 2017
Excellent service. I'd ordered the wrong tyres online, but this was not a problem and the correct ones were speedily ordered in for me to be fitted a couple of days later. Prompt refund once the computer glitches were sorted out.. Nothing seemed too much trouble, seems a really good team and would definitely use again. Michelle, Rotherham
Dec 30, 2016
Brilliant as always, helpful and informative, reasonably priced and fast. Well done and thank you. King's Lynn
Jan 2, 2017
Very helpful staff, I had tyres fitted but took advantage of the free tracking check As it turned out 3 of 4 wheels were out one badly The member of staff took time out to be Xperia,win in detail the problem. He then fixed very quickly My car handles noticeably better Thank you Phil Cannock
Jan 11, 2017
Being recently widowed I have always found the staff very friendly helping me deal with problems that my husband always used to sort out. Nottingham (Lenton Lane)
Jan 13, 2017
A positive,friendly service yet again.I would highly recommend formula one,for service,price.All staff are friendly.Many thanks. Bury St Edmunds
Jan 9, 2017
Great service, team very helpful even when under pressure from large amount of customers Chatham
Jan 4, 2017
Fast, friendly and efficient service. I return to Formula One Autocentres because they provide an honest service at a competitive price. Thank you! Maidstone
Dec 28, 2016
Excellent customer service by manager and technicians. Not many service orientated business use your name or sir and madam nowadays. Great service and beat prices is a winning combination Cheltenham
Jan 2, 2017
Had by my own fault mis booked my appointment and the centre managed to fit me in immediately as I was travelling that morning. Many thanks for an excellent service . Rachel, Fareham
Jan 1, 2017
I had my first MOT at the garage in Grafton Street and found them to be really helpful. I moved but live close to the garage in Gambrel Road so booked my MOT with you again and was so pleased I had! My car failed it's MOT on both occasions but the staff were so helpful and friendly and had it fixed with in no time! I will definitely be booking my next MOT with Formula 1 Autocentres! Rob, Northampton (Gambrel Road)
Jan 9, 2017
Great service. MOT failed, but garage was able to do all the recommended repairs within the same day. Very happy. Leicester
Jan 4, 2017
Excellent service and very friendly staff as usual! Absolutely the best garage in Lichfield by far. Won't go anywhere else! Lichfield
Jan 2, 2017
Exceptional service, my tyres came in the day before my booked appointment and i got a call asking me if i wanted to pop in and have them fitted straight away. Muhammad, Slough
Jan 9, 2017
Great team, nice and friendly and they made my visit feel very welcoming!!! Burton
Jan 2, 2017
Shane was very helpful and went over and above what I would normally expect to help me as a customer. He persevered in trying to sort out a problem with an airbag light to get my car through its MOT. Excellent service. Regards Clive Peterborough
Dec 29, 2016
Used previously many years ago. Much improved. Very friendly staff. Will use again. Blackheath
Jan 12, 2017
Very Friendly Staff, was extremely pleased with the quality of service and the end product. Farnborough
Jan 5, 2017
Very helpful as my car needed some work and was quick and accruate on the quote to repair. Had the vehicle back the same day no hidden extras. Stevenage (London Road)
Jan 1, 2017
I received great service from very helpful, happy staff. I have already recommended them. Bury St Edmunds
Dec 26, 2016
Awesome management and great customer service. Only delay was waiting for the parts to arrive but my expectations were set on this. Slough
Jan 15, 2017
Very pleased with service, would definitely use again. Have already recommended you to work colleagues. Swindon
Jan 11, 2017
I am very happy with Formula One, they are always friendly and helpful no matter the issue. I feel confident that my car will be treated well by them. Reading
Jan 7, 2017
Courteous staff and quick tyre fitting at excellent prices- will definitely recommend. Blackheath
and there's more...
Geometry check
Looking for wheel alignment in the UK? Formula One Autocentres offer a state of the art, specialist wheel alignment service in branch. The Supertracker alignment system displays a comprehensive, diagnostic analysis of your existing wheel alignment, and produces a printed report so you can clearly see any misalignment which may need correcting.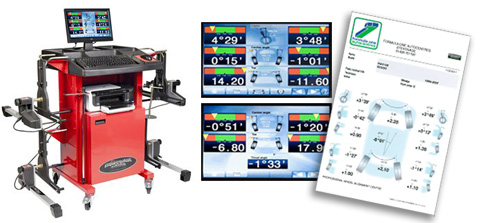 For an explanation of your wheel alignment print out, click here.
It is recommended that a car be aligned every 10,000 miles or at least once a year, depending on how the vehicle is driven. Having your car aligned at Formula One Autocentres will have many benefits to your overall driving experience, including:
Improved fuel economy due to the decreased tyre resistance which results from un-aligned tyres.

Add thousands of extra miles to your tyre life through a reduction of tyre wear and friction.

Gain a more secure handling and grip of your car by eliminating drifts to the left/right.
All of these improvements will result in a safer and more comfortable driving experience for you.
Before your Geometry Check takes place we will also:
Check Tyre Pressures / Sizes / Condition & Wheel Damage

Check for Suspension Damage

Check for worn Suspension Joints

Check Wheel Bearing Play

Check Calibration of Equipment

Manufactures Data

Flat / Level Surface

Check for Body Distortion / Road Test

Radius Plates / Slip Plates

Check Ride Heights / Loading
Common Reasons for Poor Alignment:
A common problem that causes misalignment is the Camber Angle. The camber is the angle of lean IN or OUT of the road wheel from the true vertical.
Positive camber is when the wheel leans OUT from the true vertical

This can cause the vehicle to under steer resulting in loss of grip whilst cornering

Negative camber is when the wheel leans IN from the true vertical

This can cause the vehicle to over steer resulting in greater grip on cornering
Incorrect camber can cause the following:
Smooth wear on the edges of tyres

Excessive wheel bearing wear

Pulling to one side

Poor handling
Another common cause of poor alignment is the Caster Angle. This is the angle that the strut leans forwards or backwards as viewed from the side of the wheel is the caster angle. The caster is the forward or rearward tilt of the steering axis, in reference to the vertical when viewed from the vehicle side.
Positive caster is where the steering axis is sloped towards the rear.
Negative caster (not common) is where the steering axis is sloped towards the front.

This angle can be described as the line the wheel will always follow.

It is most effective in controlling straight line stability at road speeds (vehicle motion)
Thrust Angle / Axis:
Measured on the Rear Axle!
Incorrect thrust angle can cause the following:
Misaligned Steering Wheel

Excessive Rear Tyre Wear

Poor Handling of Vehicle

Under Steer / Over Steer

Vehicle Crabbing
Toe (Front and Rear)
Incorrect toe can cause the following:
Feathering across the tread

Misaligned steering wheel

Poor handling

Increased fuel consumption
Toe In - Excessive feathering on the outside edge
Toe Out - Excessive feathering on the inside edge
Possible causes of incorrect toe:
Incorrect adjustment

Incorrect vehicle specifications

Incorrect ride height

Bent steering components

Calibration of equipment
Adjustment Order:
Some angles are adjustable on vehicles. This is the suggested order to minimise your time spent making adjustments to this level:
Rear Camber

Rear Toe

Caster

Front Camber

Front Toe
If you are experiencing any of the above problems, contact your nearest Formula One Autocentres for more information.