The wheel alignment report explained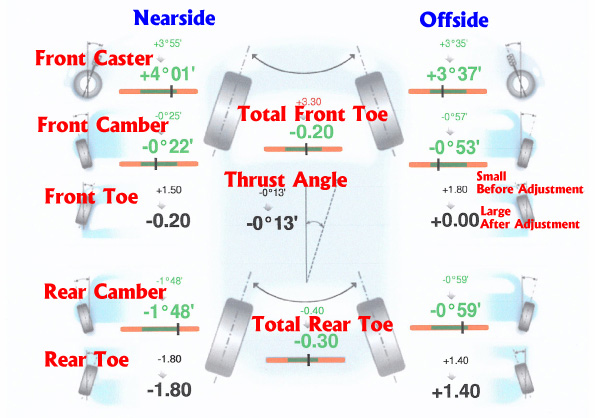 The diagram above shows the alignment figures in relation to all the wheels on the vehicle.
The figures in the left hand column are for the Nearside (passenger) side of the vehicle and the right hand column for the Offside (driver) side. The figures in the centre show totals for toe and also the thrust angle.
Front caster
This is the angle that the strut leans towards the rear of the vehicle to create self-centering of the steering wheel; it also affects the straight line stability (tyre design can also play a part in this).
Front camber
This is how vertically upright the wheel stands and alters the size of the contact patch of the tyre when cornering. Generally this will be a negative figure meaning the top of the wheel will lean in towards the vehicle.
Front toe
This is how straight the wheels point forward to reduce tyre wear when down force takes effect. Under down force the wheel position alters so driving styles do affect this greatly.
Rear camber
This is the same as the front camber; although there should always be a lot more on the rear to help reduce the chance of oversteer. The rear camber does have a dramatic effect on a vehicles' stability and handling.
Rear toe
This differs slightly from the front, it is still how straight the wheels point forward but unlike the front they do not alter. Generally there will be toe in on the rear of a vehicle the purpose of this is to scrub heat into the tyres to get them working as quickly as possible, a standard car tyre needs to reach 7 degrees before it starts working effectively.
Thrust angle
This is how square the rear axle is to the centre line of the vehicle (thrust line). This will affect how straight the steering wheel is also can affect oversteer and understeer quite severely in some cases.
Alignment variables
Be aware when referring to wheel alignment 1mm or ½ a degree can have a large impact on the vehicle overall. Formula One Autocentres therefore recommend undertaking an alignment check following any suspension work.
Another variable to bear in mind is there is often a knock on effect when carrying out adjustments i.e. an individual adjustment can affect another.
If you're unsure if your wheels need aligning, just phone or call in to your local Formula One Autocentre and our fully trained wheel alignment specialists will be happy to carry out a comprehensive check – completely free of charge*.
*Charges will be made for any adjustments required.
To save on Wheel Alignment in branch, download our vouchers.
Book your free Wheel Alignment check
You can also add a free wheel alignment check to your tyre order in the basket.
Search for your nearest centre and phone to book your appointment, or just call in.